Your holidays in Florence, Guide for tourists!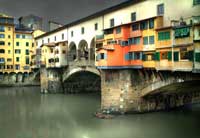 Florence Guide portal is suitable for all tourists who wish to experience all that this beautiful city offers to the visitors.
Within the site you will find information on the history of Florence , tourist information , detailed itineraries , guides to the museums of Florence and the historical heritage of one of the most important artistic patrimonies of Italy.
There is also advice on hotels, bed and breakfasts and youth hostels to make your holiday complete. The portal also provides a list of the best restaurants , pizzerias , bars , ice cream parlors , pastry shops and wine bars, not forgetting of course the fun with continuous updates on major music events, parties, festivals , nightclubs and much more.
Tourists will also have the opportunity to see photo albums and videos of Florence!
For all those who want to learn more there is the possibility of consulting sessions dedicated to the sport , to universities , to hospitals and to a range of online services .
We are sure that once visited the portal, you will have all the information needed to make unforgettable your holiday in Florence!
Art, History and Culture
All information on 'art, history and culture of the "Cradle of the Renaissance". A guided tour to discover the museums , the churches , the palaces , the Villa Medici , of bridges and of all the architectural structures that make Florence one of the most beautiful and interesting historical sites in the world.
Tourists will also be able to consult a specialized guide on Uffizi , to know the rooms dedicated to the great Italian artists.
Florence and its surroundings ...
To make it even more special your vacation, Guide Florence offers a journey through the ancient villages surrounding the city.
Tourists can discover the province of Florence by visiting Fiesole , Chianti , Vinci , Pontassieve , Borgo San Lorenzo , Barberino del Mugello , Empoli , Castel Fiorentino and Montelupo Fiorentino .
For your holiday you will find interesting tips about places to visit, hotels, restaurants, bed and breakfasts and phone numbers to which you can ask for any information.
Hospitality and leisure ...
In this session, the tourists will find everything they need to spend an unforgettable holiday: hotel in the center carefully divided according to the chosen area of Florence, hotel outside the center of the city, bed and breakfasts and youth hostels, so to satisfy any type of target.
You will also find useful tips regarding the best restaurants , pizzerias , taverns, wine bars and international restaurants .
For tourists who want to know more about the city and its surroundings, we have proposed interesting routes in the city and a few trips out of town.
If holiday is synonymous with relaxation, here are some tips on where to spend some free time, such as lying comfortably in the Cascine Park .
Shopping and Dining
On vacation in Florence you can not flee from the atmosphere of shopping. Undisputed temple of Italian fashion, Florence offers nice Shopping Streets , where you will find the most avant-garde shops; Take a tour also in the Outlet and Stockhouse Florentine , where you will find the quality at the right price!
The tourist who comes to holiday in Florence will not taste the original and delicious Florentine cuisine . Here you will find nice ideas on typical Florentine recipes , and even tips on the best bars, bakeries , ice cream parlors and yougurterie city!
University
For all those who want to get information about the structure University of Florence, the portal provides you with a page dedicated to the history of the university , the faculty and departments present. You will also find a section dedicated to the Florence University Press , the Museum of Natural History and the University Libraries more important.
Soccer and Sport
Here you will find information on the Fiorentina Football and Rugby in Florence , with news about the team and the club.
Tourists on holiday in Florence, will find in this section, a section devoted to swimming pools, gyms , the tennis courts , the golf courses and other sports facilities in the area, for those who even on vacation do not want to give up ' physical activity!
Fun ...
On holiday in Florence you will find everything you need to spend your nights full of fun: Discos , and Pubs with live music ! You will find a calendar of events that are held annually in Florence, divided by months plus a roundup Theatres and shows the most interesting of the city.
To keep you posted, we have dedicated a space to the TV , Radio and Newspapers representing Florence!

Hospitals and Care Centers
Guide to the main present Deans Hospital in Florence, with useful numbers of Health to which you can contact in case of need. You will find information about: Hospital of Santa Maria Nuova , the New Hospital San Juan de Dios , CTO, Meyer Paediatric Hospital , University Hospital of Careggi , nursing homes and private clinics .
Economy and Jobs
This session is all dadicata ' Florentine economy and focuses on the core areas of production of Florence, especially on tourism and fashion.

Online services
If you still have not found all the necassario for your holiday, we are sure that after visiting this session, you will not need anything else. Complete Guide Florence with information on Weather , Public Transport in Florence , Real Immbiliari , Rental Agencies , Schools and much more.
We Help Florence, not only wish you .... HAPPY HOLIDAYS!