The Gardens of Florence, culture and relaxation for tourists!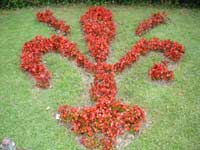 Beautiful gardens and large green areas are the background in Florence, at which dominated the warm colors and the total relaxation for the tourist who does not love the chaos of the city!
Giardino di Boboli
Tourists on holiday in Florence can relax from his daily visits with a stop in this garden city of Florence. Represents a real park in which they visit every year more than 800,000 visitors. In addition to the unique history and landscape, inside the garden, visitors can admire the great collections of sculptures dating to the Roman period. Also in the green paths along the gravel paths, small temples and artificial ponds add to the charming atmosphere of one of the most picturesque gardens in Florence.
The garden is accessed by: Dell'Ammanati courtyard of Palazzo Pitti, from Fort Belvedere, Via Romana and Piazzale di Porta Romana.
Garden of Bobolino
Just outside the Porta Romana tourists will be able to visit this park, which takes its name from the nearby Boboli Gardens. Inside, there are grassy slopes, staircases and yards of gravel in the middle of the garden you will find Villa Cora, Eugenia's old residence, while at the bottom there are some municipal greenhouses.
Giardino Bardini
If you find yourself on Piazzale Michelangelo, you can see this magnificent garden that extends around the villa. The most scenic part of the garden is the great baroque staircase that leads to the building lookout, from which tourists can enjoy a magnificent panorama. Yes can visit the splendid mosaic fountains, caves and decorated a wide range of different vegetation that acts as a contour to the green.
Giardino delle Rose
If you are in the area dell'Oltrarno, visit one of the prettiest parks in Florence. Contains more than 1,000 plant varieties and about 300 species of old roses. Interesting is the Japanese oasis Shorai, donated by Kyoto in Florence. And 'open only from May 1 to June 15.
Giardino dell 'Iris
It can be reached from Piazzale Michelangelo, is open only during the month of May. The garden belongs to the Italian Society of Iris, an association that promotes flowering. Inside are costuditi specimens of plants each year win competitions, on the basis of strength, beauty and color.
Garden of Simple
For those who are to visit the Museum of Natural History in Florence will be interesting to know that the garden is a key section. At the center is a large stone fountain, whose basin is home to plants and fish aacquatiche red. There are also several examples of basins with water lilies and large greenhouses.