Last News
title="WineTown 2012::WineTown 2012, degustazione itinerante di vino distribuita nella città di Firenze">WineTown 2012 title="Sagra della bistecca - Galleno::Due settimane di festa alla sagra della bistecca di Galleno, giunta alla 41° edizione">Sagra della bistecca - Galleno
Advertising
Opening new salon Hair and Joy
Saturday, March 26, 2011 - Via Garcia Lorca 17 - Santa Croce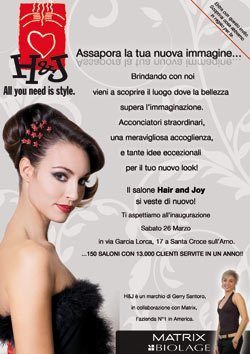 Enjoy your new image ...
Come toast with us to discover the place where the beauty beyond imagination. Hairdressers extraordinary, a wonderful reception, and lots of great ideas for your new look!
The salon Hair and Joy gets a new look!
We are waiting for the opening Saturday, March 26. Print and bring with you the invitation in the Annex, we will discover what a gift for you.
The content of the page is automatically translated.
Rate: 0.0 | Comments (0) | Write Comment